OBS! L´Jazz har ny bokningstelefon 0761-043580
Torsdag 24 september

Charlottas Burnin' Trio
OBS! Folkhögskolan, salen Ulvön
kl 20,00, insläpp kl 19.00
Entré 225 kr
servering: smörgås, dricka och fika
OBS! Endast kontant betalning
Charlotta Andersson från Bodafors, Jonas Nilsson från Onsala och Natanael Salomonsson från Gällivare träffades på Malmö Musikhögskola och har slagit jazzvärlden med häpnad. Charlotta är sin ålder till trots en makalös gitarrist som obehindrat blandar sin traditionella jazzgitarr med överraskande glimtar från Jimi Hendrix och Led Zeppelin.
I år har trion släppt sin debutskiva och åkt på turné och här är några reaktioner: "Burnin' Jazz med distade riff, brinnande solon med punkattityd och passion!" LaBettoLab, Neuköln (Tyskland)
"Bra gjort att ha upptäckt denna trio med mycket unga jazzmusiker. Vi älskar deras friskhet och kunnighet. De kallar sig Charlottas Burnin' Trio med hänvisning till bandledaren och supergitarristen, som kommer från den rika svenska skolan." La Monatana Rusa Radio (Spanien)
Charlotta Andersson gtr
Jonas Nilsson b
Natanael Salomonsson trm
Onsdag 7 oktober
Jazz på svenska
OBS! Folkets Hus, Uddevalla kl 19.30
Direktsändning från en konsert i Uppsala samt
Extra konsert med musiker från Ljungskile Folkhögskola kl 18.00
Entré 185 kr
servering: lättare förtäring, öl och vin
OBS!!
anmälan via Ticnet alternativt Medborgarkontoret i Uddevalla tel 0522-696023
för vidare info kontakta Folkets Hus, tel 0522-10494
Hyllning till Monica Zetterlund och Jan Johansson
Direktsändning kl 19.30 från en konsert i Uppsala med Svante Thuresson, Georg Riedel, Isabella Lundgren, Anders Widmark, Stephen Simmonds, Merit Hemmingson, Sofia Jannok, Calle Bagge, Maria Möller, Jonas Kullhammar, Max Schultz, Erik Söderlind och Susanna Risberg.
Men redan kl 18.00 börjar kvällen med en konsert med jazzmusiker från Ljungskile folkhögskola!
www.folketshusuddevalla.se/program
Torsdag 29 oktober
Monica Dominique och Palle Danielsson
Ljungskilegården kl 20.00, insläpp kl. 19.00
Entré 250 kr
Servering: varmrätter, öl, vin och fika
OBS! endast kontant betalning
Monica och Palle: årets Monica Zetterlund-stipendiater
Få svenska musiker har en sådan bredd som pianisten Monica Dominique. Karriären gick spikrakt från boogiewoogien i Barnens Brevlåda till teatermusik och filmmusik, arrangemang för Radiobandet, sång med Gals and Pals, revy med Hasse och Tage, samarbete med Monica Zetterlund. Hon har varit lunchpianist på Berns och Hamburger Börs, spelat jazz på rökiga jazzklubbar och fyrhändigt klassikt med maken Carl-Axel. Hon har vunnit Eurovisionsfestivaluttagningen med Sommarnsom aldrig säger nej, komponerat Mitt livs gemål, som hyllning till Victoria och Daniel, och Tillägnan, som hörs på både bröllop och begravningar (men hennes mest spelade komposition är förra signaturmelodin till Rapport!). 1969 bildade paret Dominique popbandet Bäska droppar, i Tommy Körbergs händer Solar Plexus.
Monicas bror Palle Danielsson började framträda på munspel vid fem i kortbyxor, vit skjorta och fluga och med syrran vid pianot. Bara fjorton år senare debuterade han på Gyllene Cirkeln som basist med Bill Evans, enligt egen utsago tack vare Monica Zetterlund. Steget var då inte långt till Keith Jarretts European Quartet, Charles Lloyds Quartet, Jan Garbarek-Bobo Stenson Quartet, Michel Petrucciani, Peter Erskine och Elvin Jones.
Onsdag 25 november
Jazzfest med folkhögskoleelever
Ljungskilegården kl 20.00, insläpp kl. 19.00
Entré 100 kr, elever 60 kr
Servering: varmrätter, öl, vin och fika
OBS! Endast kontant betalning
Två kvartetter och två kvintetter, arton musiker på scen!
När hösten går över i vinter bjuder eleverna vid Folkhögskolas afrogren traditionellt på höstkonsert. I år är det premiär hos L'Jazz på Ljungskilegården. De har utlovat amerikanska standards i ny kostym, hopsydd av Terje Sundby. Kom och hör vad nästa generation jazzmusiker förmår!
Ensemble I, Kvartett Anna Olsson, sång Johan Larsson, gitarr Hampus Axelsson, bas Rickard Grosshög, trummor
Ensemble II, Kvintett Emma Jansson, sång Anton Jämtander, gitarr Johan Samuelsson, gitarr Alexander Eriksson, bas James Stocks, trummor
Ensemble III, Kvintett Felicia Huldt, sång Adrian Kjellgren, gitarr Emil Johansson, gitarr Alexander Eriksson, bas Carl Brohammer, trummor
Ensemble IV, Kvartett Alexandra Shabo, sång Ciro Silva, gitarr Hampus Axelsson, bas Daniel Caesar, trummor
Föranmälan ljazz@telia.com eller tel 0761-043580
—–
Stöd vår verksamhet!
Bli medlem och få våra utskick samt 30 kr rabatt på alla konserter vår och höst.
Sätt in 200 kr på vårt plusgiro nr 37 88 42-9.
Ange namn, adress och e-postadress
Gilla oss på Facebook
Sommarjazzen 2015
Måndag 20 juli
Förband: Elin med vänner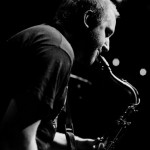 Jonas Kullhammar & New Kids on The Rock
När Jonas Kullhammar Quartet släppte sin tredje skiva (JKQ-Plays Loud For The People) för drygt tio år sedan skrev den legendariske jazzkritikern Ingemar Glanzelius i DN: Skicka en skiva till Sonny Rollins så tar han sin saxlåda och nästa flygplan till Orminge, för han vill spela med den rytmen, humorn och energin och med en lillebror, lika sugen och respektlös som han. Detta är en av de starkaste och roligaste skivor jag hört nånsin."
Jonas Kullhammars bredd illustreras av denna exempelsamling medmusiker: Fredrik Norén Band, Peanuts Hucko, Claes Janson, Eldkvarn, Fläskkvartetten, Daniel Lemma, Magnus Lindgren, Ulf Wakenius, Bobo Stenson och Salem al Fakir.
Jonas har förärats ett antal priser, bl.a.
Årets jazzmusiker, två år i rad
Django D'or i kategorin Contemporary star of jazz, (den första under 50 år som fått detta pris)
Arne Domnérus Guldsax 2006
Alice Babspriset 2008
JKQ blev Årets jazzgrupp 2003
Tisdag 21 juli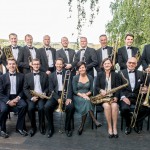 Mölnlycke Storband
med Anna-Maria Särnhult och Pernilla Warberg

En hyllning till Alice Babs och Monica Zetterlund
Mölnlycke Storband tar sig an allt från Count Basie till Lars Jansson. I Ljungskile får vi höra ett program med något av det bästa svensk jazz frambringat, en hyllning till Alice Babs och Monica Zetterlund.
Bandet bildades 1973 inom Härryda kommunala musikskola och musikerna var då mellan tretton och femton år. 1985 ombildades bandet till en fristående förening och där började dess långa period av konserter och turnéer, ofta med kända musiker som Nisse Landgren, Putte Wickman, Georgie Fame, Östen Warnebring, Svante Thuresson, Lasse Samuelsson, Arne Domnérus, Rune Gustafsson, Björn J.son Lindh, Janne Schaffer, Maria Schneider, Bob Mintzer, Claes Janson, Bengt-Åke Wallin, Sonya Hedenbratt, Jan Allan, Johan Norberg, Rigmor Gustafsson, Viktoria Tolstoy, Margareta Bengtsson och inte minst Lars Jansson.
Anna-Maria Särnhult
Niklas Hugosson, piano
Anders Johansson, trummor
Tobias Sundgren, bas
Fredrik Forsman, lead alt
Lars Munther, 2:a alt
Vicotr Tullenbåge, 1:a ten
Christina Lundin, 2:a ten
Jakob Reigo, bar
Ola Lindhe, lead tbn
Anders Lundin, 2:a trombon
Daniel Strigård, 3:e trombon
Torbjörn Agerberg, bastrombon
Dan Warvne, lead trumpet
Mats Eklund, 2:a trumpet
Stefan Kolmberger, 3:e trumpet
Gösta Emelius, 4:e trumpet
Onsdag 22 juli
Förband: Carolines ensemble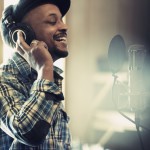 Daniel Lemma med band
Daniel berättar att amerikansk folkmusik ligger hjärtat närmast. Det började när Daniel för många år sedan hörde några låtar, inspelade av Alan Lomax under 30-40-talen. Musiken fångades upp av en tratt, fördes vidare ner i en nål som graverade vibrationerna i skivan. Ett musikaliskt ögonblick var dokumenterat. Det här blev Daniels ideal och han är inte alls intresserad av att sitta och klippa och klistra i ljudfiler och skulptera fram det ultimata soundet i studion. Det blir minimalistiskt, nästan helt akustiskt. Ljudet av stålsträngar och trä kompletteras ofta bara av dovt fotstamp som håller takten. Han minns artister som Bascam Lamar Lunsford och Buell Kazee.
– Som en dröm man knappt minns. Det finns en mystisk svängighet i de där gamla inspelningarna. Bob Dylan tog alla de där grejerna som jag hittade i den amerikanska folkmusiken och rörde ihop det till sin egen grej. Musik som hör hemma ingenstans och överallt.
Torsdag 23 juli
Förband: Daniel Johansson Trio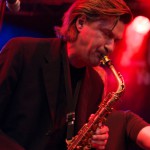 Lars Jansson Trio med saxofonisten Håkan Broström
Denna sommar har Lars Jansson med sig Håkan Boström, en garvad saxofonist som spelat med musiker som Nils Landgren, Victoria Tolstoy, Putte Wickman, Toots Thielemans och Herbie Hancock. Håkan började sin bana hemma i Motala i ett bluesband med B B King, Muddy Waters och Ray Charles som förebilder och spelade även några år med Peps Perssons Blodsband.
Som alltmer renodlad jazzmusiker bildade han 1988 In and Out med bl a Esbjörn Svensson på piano, gjorde inspelningar med Bob Brookmeyer och turnerade i Kanada och Grekland. Han har spelat med Radiojazzgruppen och Stockholm Jazz Orchestra, arrangerar och komponerar och är en av ledarna för Norrbotten Big Band som han är medlem i sedan drygt tjugo år och sätter mycket högt.
-Bandet slår alla andra storband vad gäller uppmärksamhet och koncentration!
Med sitt New Places Orchestra spelar han nu också med Tommy Körberg.
Fredag 24 juli
Förband: O´Marie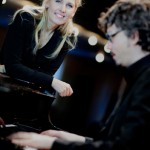 Margareta Bengtson, Klas Lindquist, Mathias Algotsson Trio
Margareta Bengtssons musikaliska rötter utgörs av Adolf Fredriks musikklasser och Södra Latins musiklinje. Myllan var inte dålig, mamma var sångpedagog och pappa soloflöjtist i Kungliga Hovkapellet. Men få kan väl ana att hon sedan valde harpa som huvudinstrument på musikhögskolan. Det var där The Real Group bildades. Mest på skoj, faktiskt. Men 22 år blev det med den världsberömda a capella-gruppen.
Margareta lystrade då till efternamnet Jalkéus men har nu återtagit sitt flicknamn och lämnat The Real Group för en egen jazzkarriär.
-Det är naturligtvis ett stort steg att ta men jag har gått och grunnat på det länge. Jag kände att nu var det dags, nu eller aldrig. Vågar man inget så händer ju heller inget. Det hela började egentligen med att jag tog "tjänstledigt" från The Real Group. Meningen var att jag skulle komma tillbaka men jag kände att jag ville vidare, utvecklas och göra något annat. Jag har jazzen i hjärtat på något sätt.
Lördag 25 juli
Förband: Rulles Storband, obs! 18.30 på altanen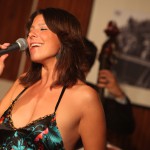 Live at the Palladium
Peter Asplund, Vivian Buczek, Claes Crona Trio
svenskpolskskånskan Vivian Buczek blev med jazzalbumet Can't We Be Friends? placerad bland de sexton bästa kvinnliga jazzalbumen i Japan 2003. En av albumets låtar lånades av Universal Music till albumet Rendezvous On The Jazz Boulevard där Vivian Buczek platsar bl a Ella Fitzgerald, Eva Cassidy och Stacey Kent.
Trumpetaren Peter Asplund, världsstjärna med turnéer över hela världen bakom sig, har med tiden också blivit en suverän crooner á la Mel Tormé, stundom i duett med Vivian.
De kompas av en stadig trio: Claes Crona, en gång Putte Wickmans pianofavorit, utgör ihop med Backenroth och Löfcrantz Ramsay "det bästa och mest stabila som står att finna i vår del av världen". (Jan Olsson, Skånska dagbladet)
Programmet i Ljungskile är hämtat ur cd:n Live At The Palladium, där de hyllar några av jazzens största vokalister: Carmen McRae, Sara Vaughn, Anita O'Day och naturligtvis Buczeks personliga favorit Ella Fitzgerald.
Vivian Buczek, sång
Peter Asplund, trumpet
Claes Crona, piano
Hans Backenroth, bas
Johan Löfcrantz Ramsay, trummor
Söndag 26 juli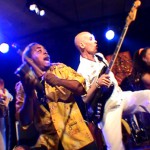 SIMBI
Niomannaband med Haitiinspirerad kreoljazz
På Haiti kallas SIMBI De blåögda haitierna, ett uttryck för den respekt bandet åtnjuter på grund av sitt intresse för den haitiska musiken. Deras musik är en kärleksförklaring till haitisk kultur. 1991 blev de inbjudna av Haitis regering till festivalen Bwa Kayman för att fira 200-årsjubileet av slavupproret. 1995 framträdde man på fotbollsstadion i Port-au-Prince liksom på en festival i Miami inför 20 000 haitier. SIMBI har ett intimt samarbete med Haitis mest kända rootsband Boukman Eksperyans och de har tillsammans framträtt bl a på Winnipeg Folk Festival i Canada. Turnéerna har gått vidare i Frankrike, Belgien, Benin, USA, Frankrike och Sverige.
Bakom alltihop står Sten Källman som tog Haitimusiken till Sverige. SIMBI som han var med och startade för 25 år sedan, är ett svenskt niomannaband som lärt sig spela mizik rasin i Port-au-Prince och i voodookyrkor på landsbygden och det blandar man med västafrikansk pop, afrofunk och jazz.
Lotta Sjölin Cederblom, leadsång
Raul Lara, congas, sång
Mats Eriksson, gitarr
Markus Ahlberg, trombon, sång
Klas Nilsson, trumpet, sång
Johan Ohlsson, synt, dragspel
Chris Montgomery, trummor
Stefan Bergman, bas
Sten Källman, barytonsax, sopransax, percusssion, sång
Våren 2015
Sinne Eeg Group
Sinne Eeg åter till Ljungskile mellan världsturnéerna
och efter sin tredje Danish Music Award
Sinne Eeg sång
Jacob Christoffersen piano
Lennart Ginman bas
Janus Templeton trummor
Shai Maestro Trio
Den världsberömda trion från New York gjorde stor succé vid besöket i Ljungskile förra hösten och salongen var fullsatt.
Publiken sa efteråt: Detta är nog det allra bästa på L´Jazz någonsin!
Shai Maestro piano
Joseph Sanders bas
Ziv Ravits trummor
Pierre Swärd Organ Jazz´n Soul Group
Pierre Swärd hammondorgel
Jon Ottesen gitarr
Jocke Ekberg trummor
Äntligen tillbaka med sin hammondorgel!
Det blir snudd på 20-årsjubileum för orgeldemonen Pierre Swärd i Ljungskile. 1994 gav han med Nils-Bertil Dahlander och Ulf Wakenius en konsert i Ljungskile som man fortfarande talar om.
Onsdag 15 april
Ljungskilegården Kl 20.00, insläpp 19.00
Entré 225 kr, medlemmar 195 kr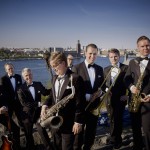 Åtta man stark swing!
Jublet var monumentalt när Stockholm Swing All Stars förra gången en sommarkväll besökte Ljungskile.
Vi var många som tyckte det var det svängigaste vi hört här.
Karl Orlandersson trp, sång
Klas Lindqvist as, clt
Fredrik Lindborg ts, clt
Magnus Wiklund tbn
Gustav Lindgren gtr
Daniel Tilling p
Göran Lind b